Jorge Monge
Jorge was born and raised in a rural area just outside of the capital city of San Jose.  From a very early age, he became interested in Costa Rica's wildlife and abundant natural resources, mainly due to his childhood experiences in the wilderness around his home.  After high school, Jorge graduated from college with a degree in tourism and studied English at INTEC (Inter-American Institute of Technology).  Gaining experience in college by guiding tourist groups from the International University of the Americas, he formally entered the tourism industry as a naturalist guide in 1998.  After gaining experience in his early years by guiding groups in the rainforests of Tortuguero, he now has the privilege of conducting groups in all regions of Costa Rica, and even to other countries in Central and South America.   Jorge loves sharing flora and fauna of his country and especially enjoys showing tourists the hundreds of species of birds that live in Costa Rica. He also firmly believes in the importance of sharing with his tourists the authentic Costa Rican culture so they can have a unique and unforgettable experience.  As the first guide hired onto the Natural Expeditions team of guides, Jorge is loved by all and has even earned several nicknames due to his energetic personality and extensive knowledge of Costa Rica.
Steven Gutierrez
Steven was born in Guápiles and completed elementary and high school education in his hometown.  After high school, he became increasingly interested in wildlife and wanted to share his love and knowledge of his country with others. In 2007, he began the process to become a certified guide to combine both of those interests. With over nine years of experience working as a guide, he is wholly dedicated to providing superior customer service to his clients through sharing, showing, and enjoying all the wonders of Costa Rica with them. He devotes himself entirely to providing travelers with the very best encounter with the culture and wildlife of his country. Plus, his positive and optimistic outlook on life makes any tour with Steven a blast!
Herson Guevara
Herson was born in the capital city of San José.  Even though he went to college with the intention of studying law or biology, a friend introduced him to the idea of choosing a career in the tourism field.  He tried out a few classes and was immediately hooked.  As a child, Herson lived for a few years close to the Arenal Volcano, which is where he developed his love of nature.  With no electricity or potable water, he spent more time interacting with the wildlife in the forest than inside the house.  Herson graduated college in 1995 with a degree in tourism and immediately welcomed into the booming tourism industry.  With specializations in bird-watching, rural tourism, and student travel, Herson is a tremendous asset to our team of guides.  He is an award-winning tour guide and is recognized worldwide for his professionalism, expertise in the field, and superb customer service.  As a member of several professional tourism organizations, Herson has presented at conferences and workshops and is often asked to help train and develop both new and experienced guides.  Herson also volunteers his time working in an educational preserve to introduce children to the concept of conservation and appreciation of Costa Rica's wildlife.  What he loves most as a tour guide is the opportunity to get to know people from around the world and share with them the beautiful country of Costa Rica, especially the flora, fauna, history, and culture.
Humberto Espeleta
Humberto was born and raised in the capital city of San Jose.  After studying English in the public school system, he decided to continue developing his skills after graduation by enrolling in the INTENSA Language Institute.  Being fully bilingual at a young age, Humberto landed a job working for one of the airlines at the Juan Santamaría International Airport. During this time, he became increasingly interested in sharing his beloved country with the thousands of tourists that he saw coming and going on a daily basis.  He went through the strenuous training and certification process to become a licensed guide, specializing in the fields of natural history and archaeology.  With almost 25 years experience as a naturalist guide, Humberto is very passionate about sharing all of the natural and cultural diversity of his country and helping people learn about conservation, the environment, and the interrelationships among living organisms.
Corina Duran
Working in Tourism field since 1996
Born in Paruro, Cusco-Peru
Resident of Cusco, Peru
Languages: Quechua, Spanish, English, Italian
Hobbies & interests: Reading, gardening, swimming, playing volleyball, dancing, singing
I grew up in a small community called Paruro, the town where the Incas mythically originated. I got immersed in culture and history, and the archeological ruins were my playground. With a lack of televisions, radios, and automobiles, I used to make my toys from clay and wood. As the oldest of seven children, I took on the role of caretaker for my younger siblings and this responsibility caused me to mature early. By the time I was ten years old, I was making chicha beer from corn and wheat bread to sell for money or barter for other products.
I look back fondly on my memories of the farm: herding the cattle, taking care of my grandparents' sheep, planting and plowing potatoes, and growing corn. However, it was not easy to be a farmer. It made me strong and motivated me to study. My ambitions drove me to go to college, which is only a dream for most farming children. Fortunately, I was able to make this dream come true. Life in the city was challenging and different from everything I used to. Today, I have a Bachelor's degree in Tourism and Administration, a Master's in Administration and Tourism Management, and a Doctorate in Administration.
I was eager to share my Inca background and teach visitors about the Andean People. When I began my work as a tour guide, I learned just as much from my travelers as they learned from my instruction. I am passionate about my job because this phenomenon never ceases to amaze me. Sharing my culture, history, and tradition with travelers from all over the world molds me into a worldly person, too. The ability to learn about various cultures enhances me as a tour guide and makes me become a more open-minded individual.
Every aspect of my tours is meaningful but shopping in a local grocery market with my groups is always special to me. Sharing some local fruit, food and having a pleasant interaction with local people is unique and something I will enjoy while being a tour guide.
Monica Leal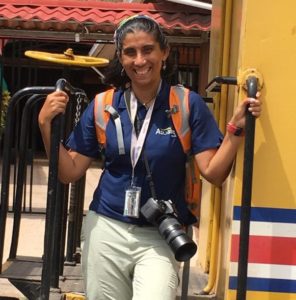 Monica Leal is a certified naturalist tour guide (License #469) who has become an essential element in the development of Natural Expeditions tours in Costa Rica. A mother of two boys and a girl (ages 8, 9, and 11), she started her post-secondary studies in the early 1990s at the Instituto Nacional de Aprendizaje (INA). At that time, Monica struggled with what field of study; she wanted to choose as a major and what type of professional she wanted to become. She stumbled upon tourism as if by chance. Monica knew very little about the profession, but it intrigued her as she had a natural love for her beautiful country and all that it has to offer. As soon as she began her studies in tourism, she quickly realized how much she enjoyed learning about the natural history of Costa Rica, volcanology, ornithology and all the different subjects related to becoming a professional naturalist tour guide in Costa Rica. Monica loves her job so much that in her eye it's not a job but a real passion. When asked about her favorite place to take tourists, she spoke highly of Tortuguero. She thinks that it is so beautiful and populated with so much wildlife that tourists just fall in love with it immediately. During her spare time, Monica spends as much time as possible involved in activities related to her children and nature. She loves bird watching and nature photography.
Having a knowledgeable and personable guide makes all the difference for your tour.  A guide takes what could have been just an ordinary trip and transforms it into a unique cultural and natural expedition, full of geographical and historical insights that you would never discover on your own.  An expert guide knows how to find all of the plant and animal wildlife that you're anxiously hoping to see, and can turn any situation into an authentic learning experience.  All of our certified and highly trained guides adhere to our philosophy of first-class, personalized service and are eager to share their beautiful country of Costa Rica with you!