Natural Expeditions is passionate about promoting and supporting the family-owned and operated hotels and lodges of Costa Rica. We pride ourselves on negotiating fair, yet competitive rates with local providers to provide the very best for our clients.  As a strong supporter of sustainability practices and conservancy efforts, Natural Expeditions partners with hotels and lodges that share the same philosophy and practices.  We also promote the hotels and lodges that give our clients the real Costa Rican experience, with architectural flavor and tropical ambiance, as opposed to chain hotels that look the same in all parts of the world.
Our Drivers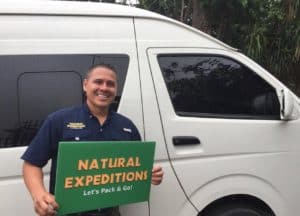 Our drivers represent the perfect complement to our naturalist guides.  In addition to having a service-oriented and friendly personality, they understand that they are the most important factor in their clients' safety on the road, and they take that responsibility very seriously.  All of our drivers have passed strict driving exams and follow all regulations set forth by the Costa Rican government for tourist transportation services. Even though driving in Costa Rica is known to be difficult and often stressful, you can travel carefree knowing that you are in good hands with our experienced drivers behind the wheel who are dedicated to taking good care of you every step of the way.
To ensure our clients' safety and comfort while on tour, Natural Expeditions accommodates the transportation according to the size of the group.  The transport we use ranges from conventional cars to 52-passenger charter coaches, with the most common type being a 15-passenger van.  Besides, all of our transportation is required to meet the necessary insurance, certification, and safety standards set forth by the Costa Rican government for the tourism industry.